A True Masterpiece Of Guitar Art! 
We went our way off the beaten track and are committed to only two demands: Full respect for the tradition of guitar making and the best possible competence and consistency in implementing ingenious design ideas. 
Designed by Maybach master builder Nick Page, the Convair Series takes you into a new Maybach world. Here, the new appears familiar, and the familiar is new. If you let yourself in on this conversion, you will get the chance to discover new ways in your own music.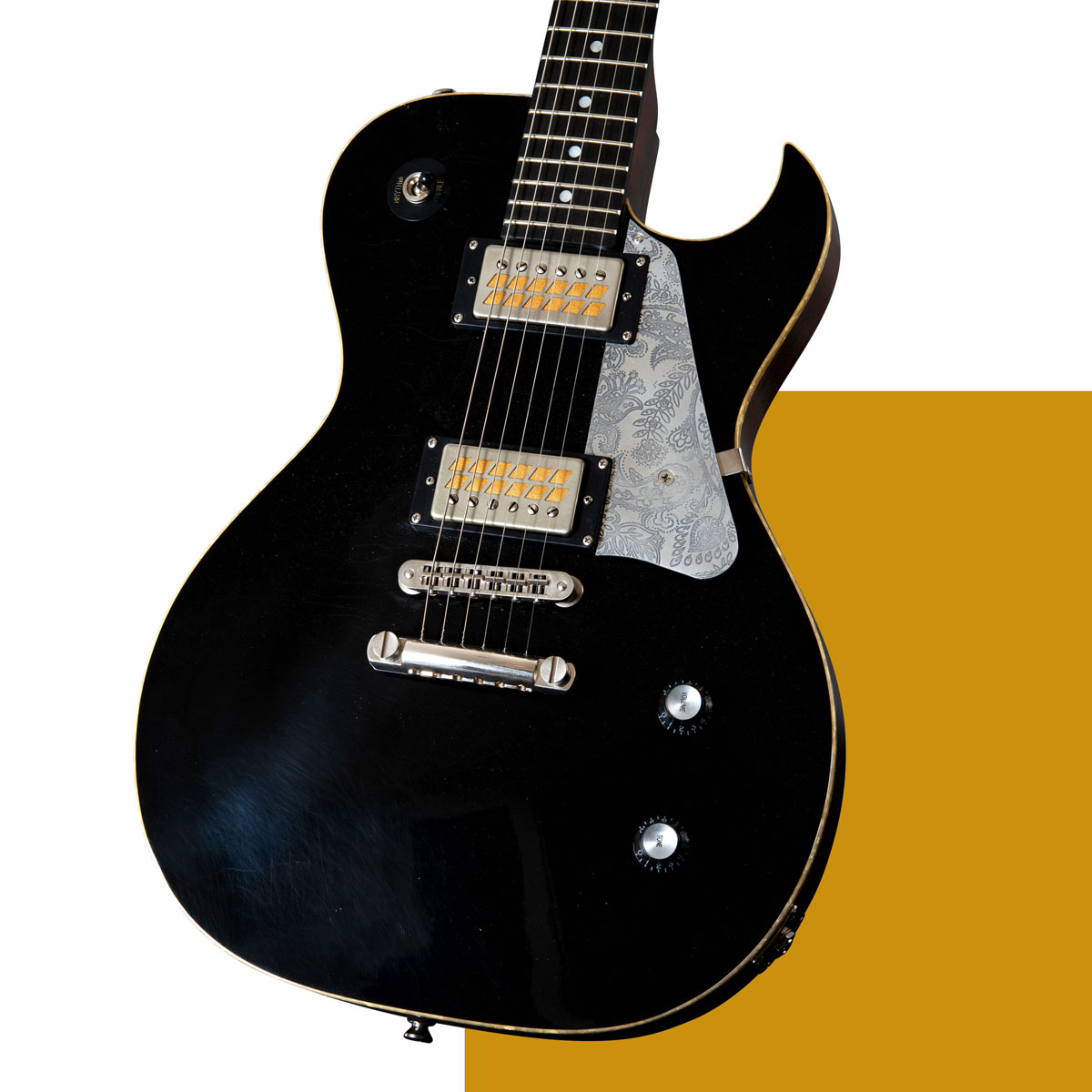 Ingenious designs are, first of all…timeless! They always seem contemporary, even if they take us back to a time when we may not even have been born yet. The Maybach Convair is no exception. Enjoy the throwback to the 1950s, when music and guitars were created that gives us our raison d'être as musicians and guitar manufacturers of today. The Convair fully exhales that pioneering spirit that characterized the makers of the 1950s – and equally lets us share in all the advances that today's modern guitar technology has to offer, giving us the best playing comfort in the history of the electric guitar. The design emphasis is evident at first glance: the elegantly cut Florentine cutaway, the quaint window headstock, and the genuine celluloid binding are the signposts right into retro land. The two-piece chambered mahogany body, in combination with an arched, solid maple top, provides for earthy, rough, and fat sounds, which get their characteristic, unmistakable flavor from the mahogany neck with its ebony fingerboard, glued traditionally via a long tenon. 
On the other hand, Nick's unique, artistically chiseled paisley work, which he conjures up with a specially developed etching technique on aluminum plates, appears as if from another world. Never before has a trip back in time been done so stylishly! These eye-catchers can be found on the pickguard and the rear cover plates of the electronics compartments.  
Amber "Spirit of '59" humbuckers, here in stylish gold-foiled nickel covers, are again our first choice regarding the faithful transmission of these authentic magic sounds we all are haunted by and that does not let us go. 
All Maybach Convair Series instruments are finished with matte nitrocellulose lacquer to allow the wood to breathe freely from the start. This type of sealing is also the best testimony to your journey through time because all the years you will spend with it will be immortalized by inevitable cracks and playing marks, making the Convair your own guitar more and more. 
Click here to view our online store!
| | |
| --- | --- |
|   | IMUSICNETWORK E.K. |
| STREET | KAPELLENWEG 5 |
| ZIP / CITY | D-97268 KIRCHHEIM/GERMANY |
| PHONE | + 49 (0) 9366 999 79 |
| E-MAIL | INFO@I-MUSICNETWORK.COM |